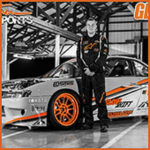 Whether you use your 240sx for daily driving, racing, or drifting, the best way to keep your Nissan functioning optimally is to get the right tools for monitoring its inner workings. Many choose aftermarket automotive gauges and other diagnostic devices to help monitor the most vital functions of their vehicle to ensure there is no damage being done to the vehicle's engine, turbo, exhaust manifold and more. Nothing brings out a custom interior style like a set of gauges mounted to your 240sx's dashboard or A-pillar.
---
For GlowShift Gauges sponsor Dave Lightner, relying on GlowShift for his monitoring needs for the last 9 years has kept each of his builds running at top shape. Dave Lightner's passion for driving has been growing since his start in go karts. Dave has driven his way through dirt track racing, asphalt racing, and more recently drifting to expand his experience in all types of driving. Dave's custom Nissan 240sx was built for road racing but he dabbled in drifting for fun. It featured a LS1 motor swap out of a Corvette, featured Wiring Specialties pro wiring harness that removed all of the factory wiring within the car, and replaced the OEM cluster for a custom built dashboard using GlowShift's White Elite 10 Color Series Gauges. Dave needed a product that could oversee every function of his 240sx's engine so he went with 10 different Elite 10 Color gauges including Oil Pressure, Water Temperature, Wideband AFR, Speedometer, Tachometer, Boost, and more.

---
GlowShift's Elite 10 Color Gauge Series comes packed with a collection of features including a black gauge with a tinted lens or a white face with a clear lens. Each Elite 10 Color Gauge is driven by microprocessor controlled stepper motor technology which ensures smooth needle movement for accurate readings from the engine to your gauge. The 10 Color through dial LED Lighting allows you to match your stock gauges or add a custom look to your vehicle's interior. Not only do these gauges have ample colors to truly customize your interior, but also feature a color recall function that will remember the preferred color every time you turn on your vehicle. The Elite 10 Color Gauges also feature high and low warning  functions that will alert you visually with an optional audible tone, ensuring your 240sx is not running too high or too low, and the peak recall feature gives you instant feedback.
---
When you spend your hard earned money on auto performance, it's important to keep an eye on your investment. If you're driving a modified 240sx, you may want to invest in gauges to keep tabs on all the vital readings to prevent meltdown, detonation, and a catastrophic failure. Whether you're looking to add a temperature gauge, pressure gauge, or to replace your stock tachometer or speedometer, gauges will not only help you keep a watchful eye, but will also add a racecar-like style to your 240sx. If you're serious about seeking speed and reading revs, a quality tachometer or speedometer is a must! In a car full of amplifiers and transmissions, your vital components get hot while running.
A temperature gauge allows you to monitor these temperatures. Temperature gauges are available for monitoring transmission, oil, water, differential, and exhaust. To ensure you don't cause damage from excessive pressure, make sure to install a pressure gauge. Pressure gauges are available for reading different components of your 240sx, such as air pressure, boost, oil pressure, vacuum, or nitrous pressure all designed to stand up under intense pressure. The selection of aftermarket gauges is full of variety and different gauge types for any vehicle component.
Whether you're looking to keep an eye on your 240sx engine's vitals or add a dose of racecar style, a set of performance gauges will give you the security and style you need in your Nissan 240sx.
---