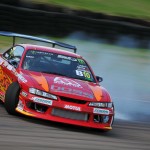 The basics to getting started – Drifting!
So you have yourself a Nissan 240sx, Mazda rx7, or anything that is RWD and want to start drifting. As you will find out anywhere that drifting is by all means not a, "Poor Mans Sport." It doesn't take much to enjoy the sport or at least experience the feeling and rush you get. The actual cost getting started is simply buying the car itself. Although drifting a completely stock car is possible, you will have certain limitation on how well you do, and this is the reason I am writing this. I started drifting with a 1989 s13 Nissan 240sx and I still had a KA24e or, "single cam slam". Drifting with a car with hardly any HP/TQ IS in fact possible and I highly recommend it for beginners. Drifting a low power car teaches you the basics of actually handling your car. The cool hop up stuff comes in a little later. Since this site is 240-sx related, I will base everything off of the S chassis Platform.
Basic Drifting Upgrades
Starting out "considering you already have purchased your 240sx" The differential on a 240sx is 9/10 an open differential. Meaning you have 1 wheel putting down the power to move the car. "Open Differential or LSD", testing this is simple and you can find out really quick. Rev up your car and dump the clutch to begin a burn out. Have a friend, family member, or your local police officer watch the back wheels. If 1 wheel begins spinning and stays spinning while the other does nothing, congratulations you have an open differential. If both of your wheels spin then you have a rare case, and have a LSD differential. This can be a very common case, especially if the car has been drifted by a previous owner.
Welding your open diff can be by far the cheapest route there is and if by far the MOST POPULAR thing to do on any 240sx.
An alternative to welding a diff, you can also buy one and have it or install it yourself.

Drifting Brake Upgrade
Now, you are no Formula D/Pro Am Drifter so a hydraulic brake is not a MUST have although they are super nice to have. There alternatives are either upgrade the rear e-brake system with either Nissan 300zx brake calipers. Often sought after there for quite expensive, a great and popular method is to get a rebuild kit for the Nissan 240sx, Upgrade your brake pads and rotors.
Drain the current old brake fluid and refill it with new brake fluid. Replace your old rotors and replace them with brand new performance rotors, and to finish off this set up, install some of the best brake pads designed for hand brake  locking. There are 2 common brands, I personally use Project-Mu. Another very popular choice is Hawk Pads. Both are great and you can't go wrong with either choice. Having OEM, Slotted, Drilled/Slotted it really doesn't matter. Some tend to believe having more surface area for the pad to bite IE:OEM rotors would be best. Slotted and drilled rotors help keep them cool but work about the same in my opinion, so don't lose any sleep on the decision, go with what ever your wallet will allow you to do.
240sx Brake Upgrades
So we have covered the welded differential, and brake system upgrade on a budget without going all out with a Dual Caliper setup and or Hydraulic E brake. With both 240sx upgrades done, it is now time to learn to drive! Yes, I know you know how to drive your s13 or s14 but I mean learn to reall HANDEL your car. Depending on where you live you might have a Skid Pad or even an actual drift track that holds regular events. Either once will help you get the basics down, and going on ride alongs with more experienced drivers can help immensely! The ability to use your hand brake to lock the rear wheels is a great start but don't make it a habit using it. Once your skills increase, you will find the hand brake will be used more for correcting or maintaining angle through different styles of turns and not only for Initiating Drift.
240sx Suspension and Handling
Upgrading 240sx suspension and handling components will be one of the most fun and easiest things to do.  The market for 240sx s13 and s14 parts is so incredibly huge you can search for days looking for the right parts. The first part we will upgrade is installing 240sx coilovers. Coilovers allow adjusting the way the car handles on acceleration and deceleration especially while drifting.
Nissan s13 Coilovers
Nissan s14 Coilovers
Upgrading 240sx Handeling