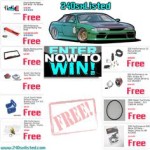 Lately if you have been following us on Facebook, You will notice we keep our eyes open and watch what's going on at 240sxListed.
They have been working hard and giving us little hints at what's going on. Lets just say they have Free Nissan 240sx performance parts for everyone! What's the catch you may be asking? No catch! They have a random drawing raffle that you simply enter for a chance to win! To increase your chances of winning free Nissan 240sx parts, you can share your entry on given social media and it gives you a +1 entry! This greatly increases your odds of winning drastically.
240sxListed is a group of people scattered throughout the US that love drifting, autocross, and drag racing the Nissan 240sx s13 and s14 chassis. They are always giving away free 240sx parts to their followers and they range from Nissan 240sx shift knobs, coilovers, body kits, and suspension parts! Why would they do such a thing? Well, they are by far not super wealthy where they give away at random. The income generated by the site is used 100% to improve the site, and give away to loyal followers! What more could you ask for in the car and auto community?
Take a break from your internet surfing and give them a like and follow for more of the news they have!