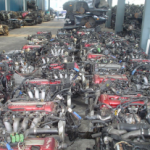 Ka24e-t "kat" Very Common
Single cam slam! price range to build one is roughly 1000-2000 depending on if you piece your kit together or buy a brand new complete kit.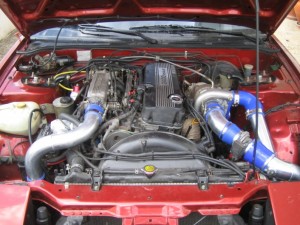 With this you can see a power level of 160-200ish. Give or take if you change injectors and get an efficient tune.
KA24DET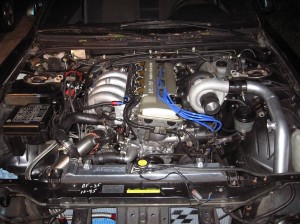 Boosting your stock ka, some say yay, some say nay, it's your choice. Cost to accomplish this task is 1500-2500.
Power level on one of these puppies can range from 200-250. For more power, you can add sr20det injectors or buy larger ones, snag a 300zx z32 maf, and tune and easy 300hp all day long.
CA18DET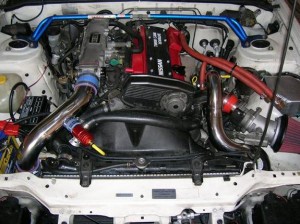 Alrighty, ca18det 1.8L 173hp inline 4 cylinder turbo motor. The CA18 is the original motor of the S13 chassis in japan from '88-90. This thing is pretty stout for a little 1.8L. It's like the geek with glasses hiding a 3rd degree black belt. The internals are forged and good for well over 300hp before they need to be upgraded. It's a pretty rev happy motor and is great for a person with mild power goals and wants a good balance. Also, it is the cheapest of the available motors and just as easy, if not easier than the SR20 swap. For all you weight watchers like myself, it is the lightest motor on the menu, even though it's an iron block. The engine sits pretty far back in the bay and places most of the weight behind the front axles; that's a good thing. From a handling point, it offers better weight distribution from the engine position than that of the RB motors, but were not here to talk about handling so moving on. The CA's aren't very common mostly due to their age. They are oldest of the motors. When swapping its going to be in your best interest to check rod and main bearings and replace if necessary. Pumps, belts, and some other accessories should also be checked and/or replaced. Another downside is the US aftermarket for the motor. Finding aftermarket parts isn't the easiest thing in the world but they are out there. Yet in the end it will still be the cheapest swap.
SR20DET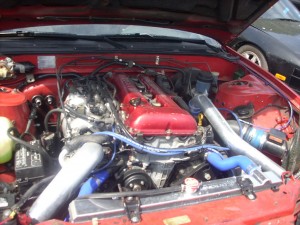 The redtop is the most popular choice. Its the cheapest of the SR's, 203hp (dont give me crap about that because the 205 rating is in ps and not HP) with 7psi of boost comming from a T25 turbo. Basically, these suckers are nice. I personally have had a ride in a base swap and drivin one with about 250hp, they pull hard and are a blast. The best thing about this motor is the aftermarket. Because everybody has one, there are a zillion parts for them. The install is pretty basic, as it's just drop in and wire. But of course, with any swap you should know what you're doing. I am adding a little here about the tech part of the swap now that i have actaully done it. I helped my buddy with his redtop swap recently. We did it in his garage,a lack of decent tools, no power tools, limited space,lack of money, and time. If anybody who was thinking about this swap was worried about install, its really not that hard. Im 16 years old, the swap isn't hard, yes it takes time, but if you use that time to do things right the first time, your in good shape. The best part of swaping any motor yourself is you learn alot, thats what counts most.
Blacktop SR20det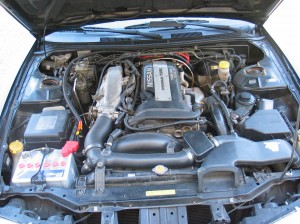 The differnece between the red top and black top is minimal. There are some minor ECU changes, cooling fins on the head (eariler red tops did not have them) and thats basically it. They are a little more pricy because they are newer. This is also a common choice for the same reasons as the redtop. Good power, aftermarket etc.
S14 sr20det
So here we have the mid version of the SR. Some of the obvious changes at a glance are the new intake manifold, rear slanted valve cover with a hump on the front. That hump houses a variable timing system not present on the S13 SR's. These are going to get you 220hp out of the box. Some of that power comes from a larger T28 turbo. Yea all this sounds find and dandy but you are going get a bigger hole in your pocket as the price of these is a fair chunk more than the S13 SR's.
S15 SR20DET
Good stuff. 250hp on tap. 6-speed tranny to make that 3500rpm @ 80mph go away. There are pretty minimal visible differences from the S14 SR. This one has another turbo imporvment. A T28 ball baring, feeding that 250hp. But like always, goodness comes at a price. That fancy 6-speed isn't as strong as the 5-speeds that came with the rest of the SR group. And big price in this case, be ready to bust out the needle and thread for this one, it will burn a hole in your pocket. The S15 SR is the least common because its the most expensive, and like the S14 SR its also harder to install than th S13 SR's, including a driveshaft, motor mounts, more extensive wiring, etc. Yes its awesome, no you cant afford one .
RB20DET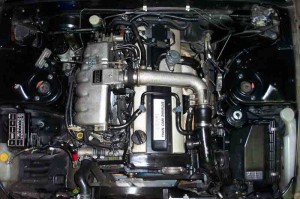 Iron block, Inline 6 turbo, strong, reliable, and some of the best damn sounds your ears will ever hear. The RB's have that "cool" factor. I know i would like to answer "Its a skyline motor." You're an instant cool person . So lets get down to it. First off there are 3 RB swaps that are known to be done( Im excluding the RB30 hybrid as it is a rare swap). OK, this motor is a common choice among RB enthusiasts. This is the exception of the list order. It is cheaper than the S13 SR20. 2.0L single turbo, pretty rev happy and again, the cheapest way to say "I have a skyline motor". Your butt dyno should read about 210ps (what, like 207hp i guess). The problems with this and all the RB motors is that aftermarket and spare parts aren't quite up to the SR for the US market. You can always pay out the ass for uber cool JDM stuff though. Internals here are strong can take a good beating past 300hp. Jumping into the RB realm requires a lot more know how for the DIY swappers. You don't NEED custom mounts or drive shaft, the KA drive shaft and R32 cross member work fine, but its always nice to have a better aligned motor if you get mounts and a drive shaft.
RB25DET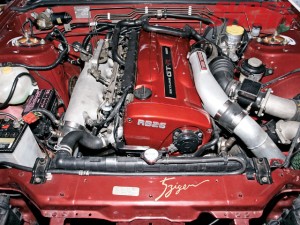 Pretty isn't it, no yours wont come with the shiny red valve cover so keep saving those pennies for a nice power coat job. This and the RB20 are the usual choice of people who do RB swaps. The RB25 is a 2.5L straight 6 single turbo. Its got more power than the RB20 checking in at 250ps ( again something like 246hp). Stepping up your swap skills is on the to-do list for this one. As far as install goes, you do not need custom mounts, the stock cross member bolts up fine, if you re-drill it about 1″ back for the motor mounts, their are no clearance problems except the hood, and the shifter is centered. A mount kit is still the best way to go if you are willing to pay up. www.mckinneymotorsports.com their site is goofy right now but you can get their number there.
RB26DETT
This is the god motor. Its used in the old Skyline JGTC cars for a reason. The RB26 is basically a detuned race engine. It was actually designed for race use more than street use. It is the most capable RB motor that rolled out of the Nissan line up. Although this all sounds great, its also the most expensive. You need an RB25 transmission to use with the RB26 if you don't want to hammer away at your trans tunnel. Installation is also the most difficult of the RB motors so you better know your shit. The swap has some very involved work: modding an RB25 oil pan or making a custom one, mounts, drive shaft, crazy wiring, clearance issues with twin turbo setup ( many people switch to single), and many other things, i have seen quite a few people who have attempted the swap and simply gave up. this swap is still the shit
Thanks for reading 240SX engine Swaps